Top Ten Tuesday is a weekly meme hosted by The Broke and The Bookish. This week's theme is underrated books. To qualify as an underrated book, it was suggested to include books with under 2,000 ratings on Goodreads. Here is my list (if I have a review of the book, it will be linked to the title):
1.) Sincerely by Courtney Shienmel
Number of ratings: 302
Sincerely by Courtney Shienmel contains two books–Sincerely, Sophie and Sincerely, Katie–and follows two pen pals that live across the United States. Sincerely is underrated because it was incredibly realistic and surprisingly deep. When I picked up this book, I was expecting a light and fluffy read but was blown away by the terrific writing and characterization.
2.) Clara Lee and the Apple Pie Dream by Jenny Han
Number of ratings: 415
Clara Lee and the Apple Pie Dreams follows Clara, a young Korean-American girl who wishes to become Little Miss Apple Pie. Like with Sincerely, I expected this book to be light and fluffy. However, I loved how this book explored a deeper message–what it really means to be American.
3.) Reality Check by Jen Calonita
Number of ratings: 1, 369
Reality Check centers on four best friends–Charlie, Keiran, Brooke, and Hallie–who land their own reality show. Reality television, however, is definitely not what it seems and begins to tear the group apart. Jen Calonita is mostly known for the Secrets of My Hollywood Life series, but I've also enjoyed her other books like this one and Sleepaway Girls. Calonita has a smooth writing style with fun and interesting plots. Like with Secret of My Hollywood Life, the books are extremely believable because Calonita formerly was an entertainment editor at a teen magazine.
4.) Spring Fling by Sabrina James
Spring Flings follows several groups of friends from North High as they enjoy Spring Break in Florida. Sabrina James utilizes this format for several of her novels, so if you like the movies New Year's Eve or Valentine's Day, then you probably would enjoy these books. Particularly in Spring Break, I really like how she expanded on the character of the school's gossip to make her a more likable and complex character. These books are perfect if you looking for an easy, holiday themed read!
Number of ratings: 644
5.) All I Want for Christmas is You by Mariah Carey
Number of ratings: 79
When I saw this book, I instantly fell in love with it. In this book, the lyrics of Mariah Carey's popular Christmas song are partnered with adorable illustrations that tell the story of a little girl wanting a puppy for Christmas. This book would make the perfect gift for any child on Christmas!
6.) Jessica Darling's It List #1 by Megan McCafferty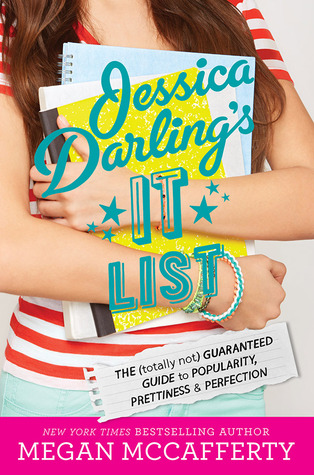 Number of ratings: 996
Jessica Darling's It List follows a well-loved young adult character during her middle school years. It List is laugh-out-loud funny and will entertain readers of all ages. This book was recently made into a movie (apparently it will eventually appear on Netflix), so I can't wait to watch it!
7.)Snow in Love by Claire Ray
Number of ratings: 1, 294
Snow in Love is a lighthearted and fluffy winter romance where a girl gets back at her ex by pretending to date another guy. This book is printed by Harper Teen Romance, which produces many similar books perfect for any season. To see my countdown on books by this publisher, click here.
8.) Puddle Pug by Kim Norman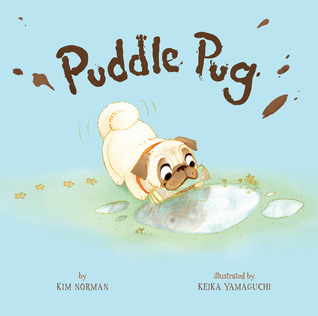 Number of ratings: 396
Puddle Pug centers on Percy the Pug who loves to make maps of the best puddles in the neighborhood. One day, Percy finds the ultimate puddle, but it's inhabited by pigs and the mom won't let him in. After a storms scatters the baby pig, Percy must use his maps and come to the rescue. This book is extremely cute and the illustrations are absolutely adorable. Everyone will fall in love with Percy the Pug!
9.) Fame, Glory, and Other Things on My To-Do List by Janette Rallison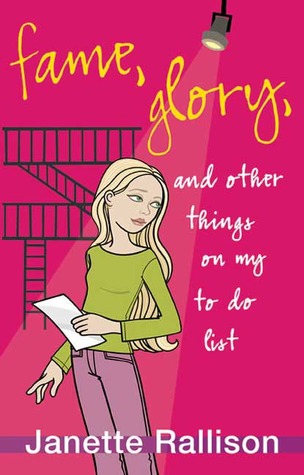 Number of ratings: 1,684
In Fame, Glory, and other things on my to do list, Jessica dreams of stardom and it doesn't seem so far out of reach when the son of a famous actor moves to town. All of Janette Rallison's books are hilarious and no matter how many times I read them, I still laugh out loud. Her books are fun and easy reads that deserve more recognition!
10.) The Chapel Wars by Lindsey Leavitt
Number of ratings: 1,204
In the Chapel Wars, sixteen-year-old Holly inherits her grandfather's troubled Las Vegas chapel. If she doesn't make enough money quick, Holly will lose the last thing that connects her to her grandfather. Things get complicated when she falls for the grandson of her grandfather's rival. The Chapel Wars offers a unique and interesting plot that allows readers to see relationships other than just with a love interest. The Chapel Wars is a solid young adult book with a lot of heart.
What is your favorite underrated book?