Last week, I featured all of the winter book reviews on my blog. Today, I'm going to discuss my favorite winter books that I haven't reviewed on my blog. Here are some of my favorite books to read during the winter time:
1.) Bittersweet by Sarah Ockler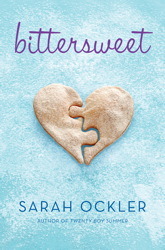 Bittersweet follows Hudson Avery, an ex-ice skater turned cupcake aficionado. When an ice skating scholarship promises a one way ticket out of Watonka, Hudson laces up her skates again. To get the ice time to practice, however, Hudson must help train her high school's struggling hockey team.
This book involves a few of my favorite things–cupcakes and hockey! With real character and a cute romance, this book is the perfect winter read.
2.) Secret Santa by Sabrina James
Secret Santa follows several students at North Ridge High as they participate in their school's secret Santa gift exchange. If you like movies like Valentine's Day or New Year's Eve, then you will love Secret Santa!
3.) Love on the Lifts by Rachel Hawthorne
Love on the Lifts follows Kate, a high school student crushing on her brother's college roommate. When Kate, her brother, and their friends vacation in one of her aunt's cabins, Kate thinks she can finally make her dream a reality. This book is a cute, quick reads that will make you want to go skiing or make a snowman!
4.) Snow Queen by Emma Harrison
Snow Queen centers around tomboy Aubrey who is forced by her best friend to enter in a winter Christmas pageant. Soon, Aubrey finds herself falling for Grayson, the brother of the pageant favorite who is determined to destroy Aubrey and her friend. This book is the perfect winter read if you're looking for some drama!
5.) Snow in Love by Claire Ray
Snow in Love follows a group of friends in their winter town. When Jessie's ex returns with a pretty new girlfriend, Jessie creates Will Parker to play her fake boyfriend. This is a cute and quick read that would be perfect to read by the fireplace!
What are your favorite winter reads?