Happy Fourth of July to my American readers! For some of my favorite patriotic reads, see my Election Day Reads from last year.
Last week, I discussed some of my favorite wedding books. This week, I will choose my favorite books fitting another summer staple: summer jobs. Every summer, a new job provides the opportunity to make extra money, spend time and sun, and meet new friends. Here are some of my favorite books that involve a summer job: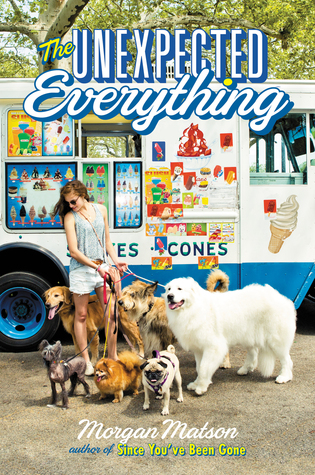 The Unexpected Everything was one of my favorite books of 2016 and includes a summer that I would have loved in high school: a dog walker! Even though Andie expected to spend her summer at an awesome internship, a scandal concerning her father takes away the opportunity. Instead, Andie finds herself walking adorable dogs and falling in love on the way. Sounds like the perfect summer!
The Truth About Forever by Sarah Dessen
In The Truth About Forever, Macy covers her boyfriend's job at the library as he spends the summer at Brain Camp. With nothing to do and judgy coworkers, the library isn't the most ideal way to spend the summer. After offered a job with a catering company, Macy's summer is turned upside down with new friends and experiences. The Truth About Forever is one of Sarah Dessen's best books and I recommend it for anyone looking for a summer book that also contains a lot of depth!
Thrill Ride by Rachel Hawthorne
To escape her sister's wedding planning, Megan decides to take a job working at an amusement park even if it means leaving her boyfriend back home. Since Megan lives in staff housing at the park, this book completely revolves around Megan's summer job! I recommend this book looking for a quick and easy read.
Summer in the City by Elizabeth Chandler
From the title, you can see that book takes place in somewhere different than typical summer reads… the city! In Summer in the City, Jamie decides to spend the summer with her mom, a romance novel author, and work as a soccer coach. Jamie wants romance and finds herself swept off her feet by a guy that seems to good to be true, but another choice may be a better fit. Summer in the City is the perfect book for someone who wants a summer read that takes place in unique location!
Before reading this book, I had never heard of Junior Lifeguards. However, this seems like such a cool way to spend the summer! Along with her three friends, Jenna auditions to work as a junior lifeguard on the Cape. However, earning her spot isn't as easy as she thought, even with her success as a competitive swimmer. I would recommend this book to readers just starting YA or anyone wanted to read a book with a job truly meant for the summer!
What is your favorite book that involves a summer job?