As summer winds down and a new school year quickly approaches, I can't help but think of the books that I loved to read when I was in school. This past May, I graduated from college. This is the first year that I'm not buying back to school supplies, dreading copious amounts of homework, or deciding what to wear on the first day of school.
Although I'm not going back to school, I love reading about characters starting a new school year. Over the next few weeks, I will discuss some of my favorite books surrounding school at the elementary, middle school, and high school level. Here are some of my favorite elementary picks:
The Best School Year Ever by Barbara Robinson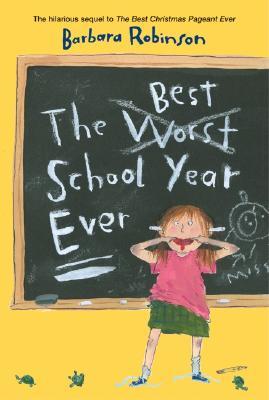 I love Barbara Park's books about the Herman family! These books make me laugh out loud and bring back so many memories from elementary school. I remember one of my elementary teachers read this book aloud and I still loved and remembered it years later.
Wemberly Worried by Kevin Henkes
I remember seeing this book all the time in elementary school and in my fields for teaching. However, I never read it. When I spotted it at a book sale, I picked it up without a second thought. When I finally read it as an adult, I absolutely loved the story. Wemberly is an adorable character that is so relatable to elementary students nervous about the first day of school. No wonder why this book is so popular in elementary classrooms!
The Night Before Kindergarten by Natasha Wing 
I discovered Natasha Wing's The Night Before series when I started thrifting books a few years ago. I especially loved her Night Before books surrounding the first day of school, such as The Night Before Preschool and The Night Before Kindergarten. Like Wemberly Worried, these are cute books that give nervous children a reason to be excited about the first day of school.
Judy Moody by Megan McDonald
When I was in elementary school, I devoured the Judy Moody books. To this day, I still remember Judy's "I Ate a Shark" shirt for the first day of school. This books will always remind me of my childhood and it makes me so happy to see elementary students still reading books in this series today.
Junie B. Jones and the Stupid Smelly Bus by Barbara Park
Like with Judy Moody, I LOVED the Junie B. Jones series. I'll always remember my grandma reading these books to me and my sister using her special Junie B. Jones voice. The Stupid Smelly Bus book in particular is one of the most memorable and Junie B.'s comments about school are always hilarious.
What are you favorite elementary back-to-school books?