In the second installment of The Brittany Awards 2017, I will be discussing my favorite graphic novels of the year. Before 2017, I can't say that I ever read a graphic novel. However, this year I really wanted to branch outside of my comfort zone. After looking critically at the graphic novels that I read this year, there were only four that I would consider my top favorites. Here are my favorite graphic novels that I read this year (reviews will be linked to book titles):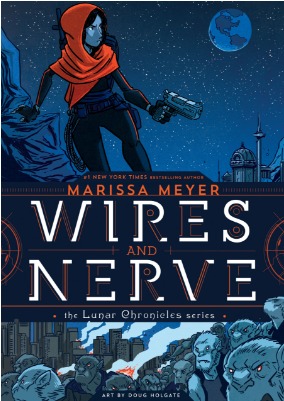 Even though I have mixed feelings towards some aspects of Wires and Nerve, this is the book that really convinced me to look more into graphic novels. The Lunar Chronicles is one of my favorite series, so I loved the opportunity to explore the world even more. I especially enjoyed getting to see the perspective of Iko, one of my favorite characters from the original series.
I heard so many positive reviews about this graphic novel series and it definitely lived up to the hype. While I love learning about history, I generally do not pick up non-fiction books when I want to read for fun. March took a subject that I do have interest in, but put it in a more accessible format for me. I literally could not put this graphic novel down!
I love reading books that feature characters with exceptionalities, so I loved reading this graphic novel memoir that focused on the author's experience with deafness in her childhood. This book offered such a valuable perspective that not only educated readers, but provided a great story. Like with March, I heard a lot of hype surrounding this book before I picked it up and I was not disappointed.
Awkward by Svetlana Chmakova
I hadn't heard anything about this book before I picked it up, both thought it looked cute when I spotted it in my library's graphic novel section. While not the most realistic story, it was incredibly cute with illustrations that I really enjoyed.
What graphic novels did you read this year?