One of the greatest gifts to any book lover is the public library. You can discover tons of new books before committing to purchasing it. With hardcover books being around $20, it's nice to pick out a new book without being afraid of disliking it. Here are the four books that I recently checked out of my library:
Guitar Notes by Mary Amato
I never heard of Guitar Notes before spotting it in the YA section of my local library. However, I was looking for a cute, fluffy book and this seemed like it would be perfect! Guitar Notes by Mary Amato follows two students, Tripp and Lyla, as they share a music practice space in school and become friends as they leave notes in the music.
Under Rose-Tainted Skies by Louise Gornall
I've heard of Under Rose-Tainted Skies, but didn't know too much about reviews of this book before going into it. Under Rose-Tainted Skies follows Norah, a girl with obsessive compulsive disorder and agoraphobia after she meets a cute boy next door.
I had seen Warcross everywhere and heard positive reviews for it, so I decided to pick it up after spotting at the library. I started The Young Elites by Marie Lu, but never finished it because I didn't particularly care for the story. However, Warcross seems a little more up my alley. Warcross follows a teenage hacker whose identity is revealed after a glitch in a game. She is then invited by the game's elusive inventor to spy on the worldwide tournament.
Wonder Woman: Warbringer by Leigh Bardugo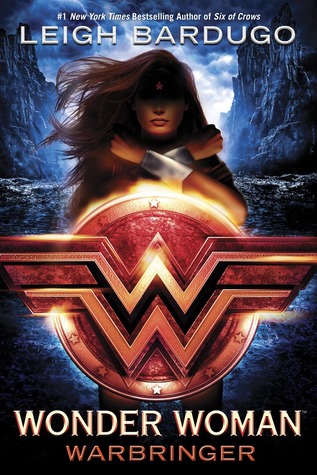 I've seen this book a lot of heard decent reviews for it, so I decided to pick it up when I saw it in my library. Wonder Woman: Warbringer is the origin story for Wonder Woman. I'm not usually interested in books based on comic book characters and super heroes after a movie is released, but I do like Leigh Bardugo's writing so I thought this could be an exception to the rule. However, this is one book that I checked out that I'm not sure if I will read due to my wavering interest in the plot.
What books have you checked out of the library recently?