On the tenth day of Blogmas, my true love gave to me… three more graphic novel reviews! Last week, I gave mini-reviews for three graphic novels that I recently read (My Friend Dahmer, Relish, and This One Summer). For me, all of those books were average reads at three stars. Today, I'm happy to discuss two graphic novels that I rated five stars and (unfortunately) one graphic novel that I rated one star. Here are my thoughts on Awkward, El Deafo, and In Real Life:
Awkward by Svetlana Chmakova
In Awkward by Svetlana Chmakova, Penelope "Peppi" Torres wants to fit in… even if it means pushing down a "nerd" who helped her. Peppi tries to push her actions out of her mind by surrounding herself with friends in the art club. However, Peppi is forced to work with Jaime Thompson (the nerd) after a fight between the art club and science club puts both of their clubs in jeopardy.
On the surface, Awkward is a pretty generic middle grade story about popularity, clubs, and learning to be true to yourself. However, Svetlana Chmakova does a great job of making her story stand out from the rest. Looking at her process at the back of the novel, Chmakova put a lot of thought into how her characters were drawn and how little features conveyed every character's personality which really showed throughout the book. This book was fun, humorous, and adorable. Although a little unrealistic, I really enjoyed Awkward and can see myself picking up more books in this series in the future. I give Awkward five out of five stars.
El Deafo by Cece Bell chronicles the young-life of Cece Bell as a girl who is deaf. At first, Cece attends a school for other children who were deaf. However, when her family moves, Cece is forced to attend public school. Cece worries that her classmates won't want to be her friend because of her phonic ear, but soon she discovers that her phonic ear enables her to hear her teacher no matter where she is in the school (even the bathroom!).
I've heard so many positive reviews about El Deafo through the years, but I never picked it up. I'm glad that I did because this is exactly the type of story that I love to read. I really loved how the author included so many different people in this book who reacted to her hearing aid. It gave readers a better perspective of what reactions are appropriate and what reactions are inappropriate. Additionally, I loved the author's note in the back of the book where the author goes more into detail about the deaf community and how other people who are deaf can have experiences completely different than her own. I give El Deafo five out of five stars.
In Real Life by Cory Doctorow and Jen Wang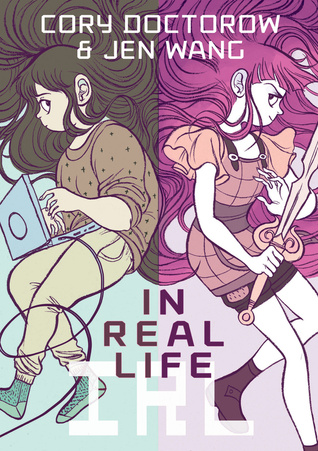 In Real Life by Cory Doctorow and Jen Wang follows a Anda, a girl who is recruited to be apart of an all-girl team in an online game. In this game, Anda is recruited to destroy gold farmers who harvest gold to sell it for money in real-life. Things grow complicated when Anda befriends a gold farmer whose real-life depends on his success as a gold farmer.
I was really interested to read this book because it emphasized culture clashing and how wrong and right aren't always clear. While I liked the premise of this book, the execution fell flat for me. Basically, the gold farmer Anda meets is this boy from China working in a factory who gold farms online to make money. Anda convinces him to rebel against his boss which ultimately leads to him being fired. Then, Anda recruits the other people where he works to stand up to the boss. In the end, everything is better, her friend from China has a better job, and he has a "Prince Charming"-esque avatar where he flirts with the main character. I found this whole plot incredibly unrealistic. I understand that the authors want to motivate girls like Anda to stick up for others, but I believe Anda needed to show more understanding for her friend's culture, greater research into the issue, and more involvement than on a computer game to make her more likable as a character and the make the whole plot believable. I give this book two out of five stars.
What are your favorite/least favorite graphic novels?