Top Ten Tuesday is a weekly meme hosted by That Artsy Reader Girl. This week's theme is books I liked, but can't remember. Since I usually remember why I like books that I really enjoy, I'm going to choose ten books that I rated on Goodreads, but don't remember at all. Here are my choices:
That Summer by Sarah Dessen
Sarah Dessen is one of my favorite YA authors, but I cannot remember some of her earliy books, like That Summer or Someone Like You. I just remember I didn't enjoy them as much as some of my favorite, such as Just Listen, and never reread them. All I remember from these two books is someone's sister getting married and someone working at a grocery store.
Wherever Nina Lies by Lynn Weingarten
I literally remember nothing about this book except it's a mystery, my sister recommended it to me, the main character's sister is named Nina. I think this was a popular YA book back in the day, but like with everything else concerning this book, it's a little fuzzy.
Dairy Queen by Catherine Gilbert Murdock
I remember picking this book up at my library. I also remember something with football, a farm, and moving boxes. However, I'm not how that all ties into the story!
Dream Factory by Brad Barkley
I remember seeing this book at my library and being so excited by the plot. In this book, Disney park character go on strike and teenagers go in as their replacements. Beyond that idea and not enjoying the book very much, I can't remember anything else.
Suite Scarlett by Maureen Johnson
With this book, all I know is it takes place in a hotel. Beyond that, I can't remember a thing about the plot. If it wasn't for Goodreads, I probably wouldn't have remembered reading this book at all.
Little Miss Red by Robin Palmer
This was my least favorite book by Robin Palmer and the one that I remember the least. I believe the main character meets a boy on a plane and goes to her grandmother's retirement community. Beyond that, I can only remember not thinking the love interest was cute.
What I Thought was True by Huntley Fitzpatrick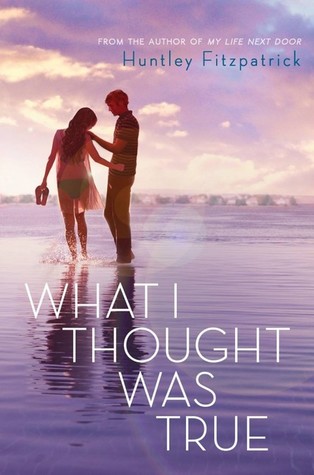 I didn't like Huntley Fitzpatrick's first book, My Life Next Door, but remember wanting to give another book by her a shot. I also remember liking this book even less than my life next door. Other than that, I think this book has something to do with rich people and lawn care.
Revenge of the Girl with the Great Personality by Elizabeth Eulberg
The only thing I remember from this book is when a little girl in a beauty pageant smears makeup all over her face before going on the stage. This definitely wasn't one of my favorite books by Elizabeth Eulberg, so I don't really remember it.
On the Jellicoe Road by Melina Marchetta
I remember seeing this book all over a book blog I read whenever I was in high school. I remember some sort of fire, but that's about the extent of my knowledge about this book. I also remember feeling so-so about this book and feeling like I "didn't get it" like other people.
Freshman Year and Other Unnatural Disasters by Meredith Zeitlin
I loved Meredith Zeitlin's book Sophomore Year is Greek to me, but I remember only rating this book as average. Aside from that, I honestly have no clue how this book unfolded.
What books have you read, but can't remember?