Top Ten Tuesday is a weekly meme hosted by That Artsy Reader Girl. This week's theme is your Winter 2018 TBR. During the winter, I usually ask for some books or Amazon gift cards for Christmas. As a result, I gain a lot of new books to my TBR! Plus, there are so many winter releases that I need to read as soon as they are released. Here are ten books that I plan to read during the winter:
Archenemies by Marissa Meyer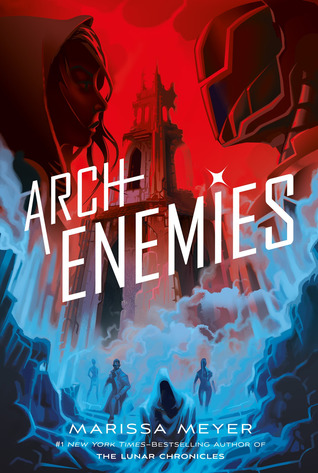 This is one book that I know I will be getting for Christmas. Marissa Meyer is one of my favorite authors and I am excited to continue her newest series. The first book in this series garnered mixed reviews, however, I really enjoyed it. I'm excited to learn more about the characters and see what direction the plot takes. I haven't read any reviews for this book in the series, so I'm not exactly sure what to expect.
I read War Cross last year and I did enjoy it, even if it's not one of my favorites of all time. This is the first Marie Lu series that I've read. I really enjoy her writing style and I'm interested to see what direction this story goes. I saw a lot of hype surrounding people initially getting ARCs, but I haven't read any reviews following that so I'm not sure what to expect with this book.
Snow in Love by Melissa De La Cruz, Nic Stone, Aimee Friendman, and Kasie West
I wanted this book the moment I saw it on Goodreads. This book I want to read before Christmas since many of the stories take place around different winter holidays. Kasie West is one of my favorite contemporary authors, so I'm most excited for her story. I haven't had the best reading experiences with Melissa De La Cruz's books, so I'm excited to read something new by her to see if I enjoy this one. I haven't read anything by Aimee Friendman or Nic Stone, so it will be cool to check out two new to me authors as well.
The Wicked King by Holly Black
I saw a post on Twitter about how it seems like everyone has already read an ARC of this book. I am not one of those lucky people, so I will be excited to pick this up when it's released in January. While I had mixed feelings towards the first book, the ending really drew me in which makes me want to see what happens next.
Salt to the Sea by Ruta Sepetys 
I've had this book on my TBR since it was released in 2016. I tend to read heavier topic books in winter months, so I definitely want to finish this before the spring and summer otherwise I will probably put it of again. I have loved every book that I've read by Ruta Sepetys and I have heard amazing things about this one, so I just need to finally sit down and read it.
99 Percent Mine by Sally Thorne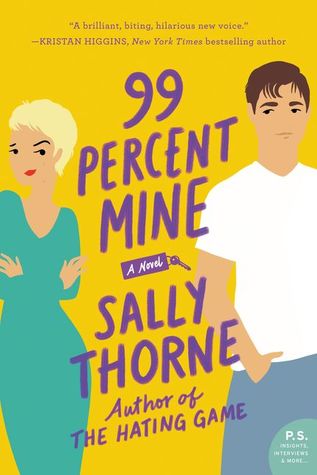 I read The Hating Game this past year and really enjoyed it. It was one of my first treads into the new adult genre and it made me want to pick up more by the author. While the plot of this book doesn't necessarily interest me as much as The Hating Game, I'm hoping it will have the same fun and fast-paced style which will want to keep me reading.
China Rich Girlfriend by Kevin Kwan
I read Crazy Rich Asians this past year. While I enjoyed it, it was difficult for me to initially get into the writing style. However, after watching the movie, it reinforced that I really do enjoy the characters in this series and I want to see what happens to them. I've heard Astrid is a major character in this book. She was my favorite character in Crazy Rich Asians, so I definitely want to pick up this book in the near future to see how her story continues.
A Curse So Dark and Lonely by Brigid Kemmerer
I've read two contemporary books by Brigid Kemmerer, Letters to the Lost and More Than We Can Tell, and absolutely loved both of them. She does a great job of making deep and complex main characters as well as an impactful story. When I saw A Curse so Dark and Lonely on Goodreads, it was a no brainer to add it to my TBR. I'm excited to see this author's work in fantasy. If her world-building is as superb as her characterization, I know I won't be disappointed. I love fairytale retellings, so I definitely will be reading this soon after its release.
Fame, Fate, and the First Kiss by Kasie West
Like I mentioned earlier, Kasie West is one of my favorite contemporary authors. There are very few authors who I automatically buy their books after they are released. I trust Kasie West to provide a fun book that I can read in one sitting and this one seems like no exception. Although I'm generally unimpressed with books involving acting or people trying to be famous, I'm hoping this Kasie West book can help change my mind.
A Quiet Kind of Thunder by Sarah Bernard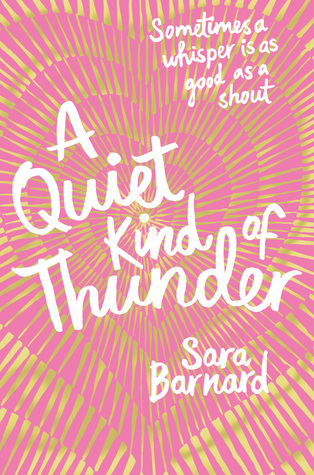 I actually received a copy of A Quiet Kind of Thunder from my sister for my birthday back in September. However, I haven't had the chance to read it yet. This book sounds right up my alley. One of the main characters is selectively mute and the other main character is deaf and they develop a romantic relationship. As a special education teacher, I love reading books that feature characters with disabilities and represent them accurately. I've head nothing but positive reviews for this book, so it's close to the top of my TBR even if it is the final book on this list.
What books are on your winter TBR?