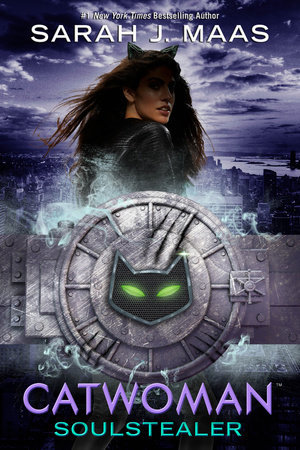 While the bat's away, the cat will play. 
Catwoman: Soulstealer by Sarah J. Maas is the third book in the D.C. Icons series. In this installment, Selina Kyle transforms into wealthy socialite Holly Vanderhees and her alter ego Catwoman to take over Gotham City while Batman is away. However, Selina's plans grow complicated when Batwing interferes.
I have never been a huge superhero person. However, I purchased the first two books in this series because I liked the authors. While those books still sit on my TBR, I've been wanting to read the Catwoman installment for awhile now. When it appeared as a Kindle deal, I immediately purchased it. Then, I proceeded to sit on my couch reading it until I finished. Lesson learned: Get more into superheroes.
The main reason I enjoyed this book was the characters, especially the main character, Selina. This is a stand-alone book, but her character and her motivations were completely fleshed out. I know Catwoman is considered a morally gray character and this came across within this story. I also appreciated Luke, or Batwing, because his character was equally fleshed out and his backstory added to his character. Poison Ivy and Harley Quinn were also fun additions to the cast.
At this point, I've read several books by Sarah J. Maas. Sometimes, the pacing is a little off-putting to me. This book was one that I found myself turning the pages until I found out what happened next. This book has a nice balance of flashbacks, character growth, and action scenes that rounded out the novel well. The ending especially gripped me and I was satisfied with the conclusion of this story.
There are some aspects of this novel that some readers may not enjoy. The ending is a little bit far-fetched and some readers may prefer a more dramatic and realistic ending than the small "cop-out" aspect of the novel's end. Additionally, I've seen in other reviews that Catwoman in this story isn't as hardcore as she typically is portrayed. I cannot speak to that representation but can say that I enjoyed her as a character in this book.
Overall, Catwoman: Soulstealer was a fun book for me. I would recommend this book to readers who are fans of superheroes or those wanting to check out something that they don't typically read. I give this book five out of five stars.