Top Ten Tuesday is a weekly meme hosted by That Artsy Reader Girl. This week's theme is upcoming releases I'm on the fence about. This year, I decided to create a list of all the books to be released this year that sound interesting to me. I put a star next to the books I definitely wanted to pre-order or purchase as soon as they dropped. However, there are still a few that I didn't star, meaning I will probably wait for reviews to purchase or pick it up if it appears in my local library. Here are my choices:
That's Not What I Heard by Stephanie Kate Strohm
This book centers on the story of a relationship gone wrong that changes as it is passed along through students at a high school. This book sounds interesting and different, but I wonder if it leans a little younger YA which I typically do not enjoy anymore. I feel like this book probably has a lot of petty drama which I would have loved when I was the same age as the characters in the book. However, this is something that I do not really enjoy in books that I read now, which puts me on the fence of reading this book because I feel like it's just not meant for me.
The Beauty of the Moment by Tamaz Bhathena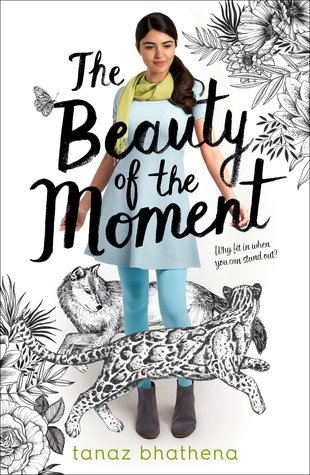 This book follows a new girl in school. She is struggling because her parents are on the brink of divorce and she wants to be an artist but she feels like she can't tell anyone. Enter the school's bad boy and the start of a love story. I'm on the fence with this book because I feel like it could go two ways. I feel like it could lean a little younger YA, which I mentioned previously is not my favorite type of read anymore due to my age. I think it could be very tropey and surface level despite larger issues it wants to present. On the other hand, I feel like it could learn more towards Letters to the Lost (which I really enjoyed) because it has a bad boy due to his complicated past and a girl learning more about herself and her family dynamics. I definitely want to see some reviews before I pick up this one.
The Devouring Gray by Christine Lynn Herman
I think this book was pitched as similar to Stranger Things. It sounds interesting, like it could be made into a Netflix show or movie, because it contains many popular elements right now: an eery small town, something in the woods, and people turning up dead. While this sounds interesting to me, I never end up reading more "intense" books because I prefer happy, light reads. It also sounds so similar to other books or movies in the same genre, so I am unsure if it will set itself apart from other similar stories. This is one where there will have to be a lot of positive reviews to push me to read it.
If I'm Being Honest by Emily Wibberley and Austin Siegemund-Broka
If I'm Being Honest follows a popular mean girl who tries to win over her crush by mimicking Katherine from Taming of the Shrew. To right her wrongs, she tries to make amends with a boy she made fun of in elementary school. One of my big unpopular book opinions is that I absolutely love reading books about popular mean girls because they are typically not likeable but contains so many dimensions to their characters if you can look past their terrible actions. I think this book could be a lot of fun, but I think the Taming of the Shrew connection could be a little tricky. Not only will it compete with one of my favorite movies, 10 Things I Hate About You, but it also needs to be careful on how it treads with the main character changing herself to try to win over a guy's affections. I hope the overall message goes against that, so I may have to wait for some reviews to decide if this book is for me.
Night Music by Jenn Marie Thorne
Night Music follows a girl who doesn't want to follow in her father's footsteps with a classical music career when she meets a boy who wants exactly that dream. There are several reasons I want to read this book. First of all, this book features an interracial relationship which is not common in young adult fiction. Additionally, from the book's synopsis, it indicates that this book will touch on how privileged and mostly white the classical music community is which sounds really interesting. On the other hand, I am never particularly interested in books that contain a musical element especially classical music. Since this is classical music, I'm assuming there won't be any lyrics in this book (but possibly since the main character wants to steer away from classical music), and that makes me absolutely cringe in books. I find myself more interested in this book than not, but I may need a little push from other reviewers before I pick it up myself.
Somewhere Only We Know by Maurene Goo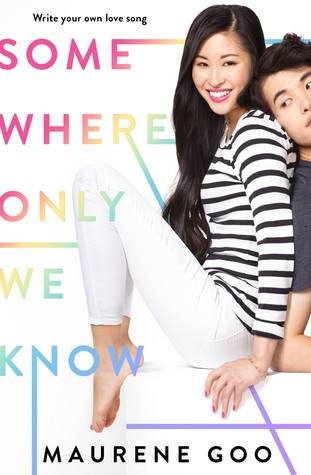 Somewhere Only We Know follows a K-Pop star trying to break out in America and a boy undercover on a tabloid job who meet. This book sounds interesting to me, but I still have a few reservations. I am interested in reading more books that feature Asian main characters and I think the K-Pop aspect also sounds very interesting. However, like I mentioned earlier, books with "famous people" tropes and singing aren't really my favorite. Additionally, I read a book by Maurene Goo a few years ago and I wasn't that big of a fan of her writing. However, I have heard a lot of positive reviews for her most recent releases which still make me interested in this one. I'm on the fence, so reviews will probably push me to read this one.
Technically You Started It by Lana Wood Johnson
This book focuses on a girl who receives a text message from a guy who could be one of two people. Soon, the two start having great conversations over text messages. From the description, it sounds like it could be someone she dislikes, he knows who she is, but she doesn't know who he is. This sounds like it could be cute, but also very tropey and overdramatic. Kind of like famous people and music tropes, I also don't have much luck with texting tropes in books. While I love A Cinderella Story which uses this trope, no other version of this trope has been successful with me. Still, I find myself on the fence because it does sound like it could be cute. This is one that I will definitely need to read reviews on before I pick it up.
The Shortest Distance Between Love and Hate by Sandy Hall
This book follows a girl who wants to reinvent herself in college. At her first college party, she makes out with a guy who just so happens to be the guy who ruined her life in middle school. This book interests me because it takes place in college which I would love to see more in books and contains the enemies-to-lovers to trope which I personally enjoy. However, it also seems like this book could come across a little immature for the age of the main character. I can definitely see this book being consumed by the Do-I-Like-Him-Or-Not? type questions and not much else which I really enjoy in books.
Truly, Madly, Royally by Debbie Rigaud
This book follows a girl who meets a boy who happens to be a prince and is whisked away to be a guest at his brother's wedding. This book interests me for a few reasons. Looking at the cover, I can see this book features an African American main character and an interracial relationship. Thinking back to Harry and Meghan Markle's wedding and how big of a moment it was to see a biracial American girl as a European princess, I think it would be interesting to see this in the YA genre even though the couple in this book isn't getting married. That being said, I'm not big on books or movies that have some royal element (besides The Princess Diaries). For some reason, I can never get into them! However, from the cover to the plot this sound super cute, so I'm only on the very edge of the fence for this one.
The Paper and Hearts Society by Lucy Powrie
This book follows a new girl in town who discovers a book club where she can finally be herself. I'm interested in this book because it's fun to read about people who love books. That being said, I see some red flags in this book's description. There's a big "not like other girls/people" vibe going on in the synopsis when it says she's "tired of trying to fit in with her classmates" and has had "enough of her old friends who only talk to her when they need something." Also, it mentions it is written by the "Zoella" of books and perfect for fans of Holly Smale. Hearing Zoella of books gives me Girl Online flashbacks which I did not enjoy at all. While I liked Geek Girl, I did find it leaning towards younger YA and something that I would have appreciated more at a younger age. I think this book could try to make the main character a little too quirky where it's more a caricature and include way too many references to other works/fandoms for my own tastes. I'm definitely swaying away on the fence of this book, but maybe some reviews can change my mind.
What books are you unsure of reading?
Follow me on…