This adult romance was a home run!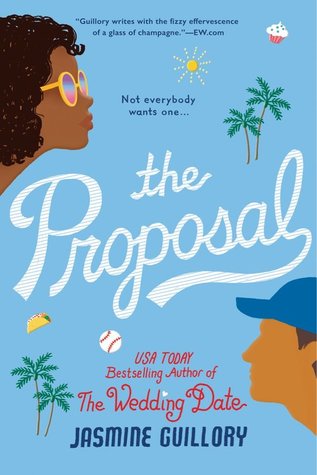 The Proposal by Jasmine Guillory follows Nikole, who is unexpectedly proposed to by her actor boyfriend at a baseball game. When she rejects his proposal and faces wrath from the media, pediatrician Carlos Ibarra comes to her rescue. While both believe that they are not in the position for a relationship, they start to develop feelings for each other.
I have not read The Wedding Date, which is the first novel in this companion series, but was looking for a cute contemporary to read and saw this in my library's e-book collection. I didn't remember hearing great reviews for The Wedding Date, but decided to give The Proposal a shot anyway. I am so glad that I gave this book a chance because I ended up really enjoying it!
For me, the best part of this book were the two main characters, Nikole and Carlos. For an adult romance book, I found them to be more developed than other main characters in this genre that I've read in the past. Both have their own passions, outlook on relationships, and past experiences that affect their actions in this book. Nikole, who feels discouraged about her writing and independence, focuses on herself by taking self-defense classes and focuses her writing on what she loves. On the other hand, Carlos is passionate about taking care of his family, but also learns that he needs to take care of himself as well.
Another high point of this book was the relationship. It's difficult to find an extremely healthy relationship in books nowadays where both members of the relationship hold an equal amount of power and share mutual respect. I found the relationship between Nikole and Carlos to check all of those boxes. On top of that, I found their relationship to be very genuine and real. Aside from how they met, I felt like I could have my own story like Nikole and Carlos which made me love them even more.
Overall, I found very little problems with this book. However, it is a long book and I know some people may be bored because it is so realistic. I give this book five out of five stars.
Follow me on…