I'm 99% sure this book won't end up on my favorites list this year.
99 Percent Mine by Sally Thorne follows Darcy Barrett, a tough bartender who enjoys photography and traveling the world. After inheriting a cottage from her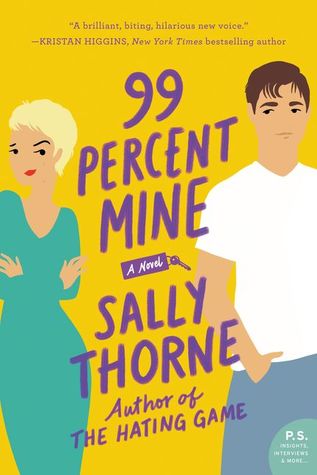 grandmother, however, she finds herself back in her hometown. When Darcy's brother insists on renovating the cottage to sell, he recruits his longtime best friend Tom and Darcy's longtime crush, Tom to complete the project.
I read The Hating Game by Sally Thorne last year after countless recommendations online and ended up really enjoying it. In fact, it motivated me to pick up other new adult and adult books last year that I really enjoyed. As a result, I automatically put 99 Percent Mine on my to-buy list for 2019. Unfortunately for me, I did not enjoy this story nearly as much as The Hating Game. That being said, there are some good aspects of this book that will motivate me to pick up more books from this author in the future.
Let's start off with the main character, Darcy. If you read The Hating Game, Darcy is the complete opposite of Lucy. Darcy is a no-nonsense girl who can put the rowdiest patrons of a biker bar in their place. Darcy is a girl who knows exactly what, and who, she wants. She never backs down from a challenge or anyone who tries to put her down. While I relate more to Lucy in The Hating Game, I still appreciate Darcy as a character. I think all of her actions in the book aligned well with her motivations. I also enjoy that Sally Thorne created a main character drastically different from her first novel because it shows she can write a wide variety of characters.
On to the romance! This aspect of the book fell flat for me. For some reason, I found it hard to connect with the relationship between Darcy and Tom. While the two had some chemistry, it never really popped off the page like with Lucy and Josh from The Hating Game. For me, the banter was not as entertaining. Additionally, since this book takes place over a shorter time span, you do not see as much of their relationship develop on the page. I also did not enjoy the whole "Tom might be still engaged" plotline that spanned the first half of the book.
Overall, 99 Percent Mine failed to create the same spark that The Hating Game did for me. I think I set my expectations too high going into this book, which may have impacted my reading experience. While 99 Percent Mine is a quick and easy read, it is not particularly memorable or a book that's on the top of my re-read list. I give this book three out of five stars.
Follow me on…