It is a truth universally acknowledged that I have read way to many Pride and Prejudice retellings.
Pride by Ibi Zoboi follows Zuri Benitez, a girl proud of her Brooklyn neighborh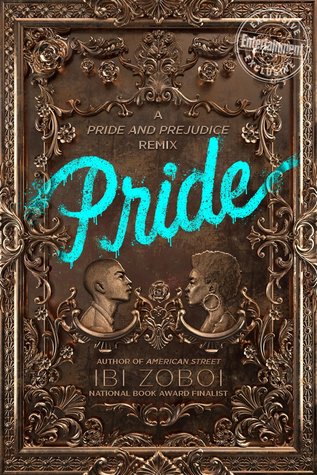 ood and Afro-Latino culture. When the wealthy Darcy family moves in across the street, Zuri decides she wants nothing to do with them. However, Zuri is forced to interact with the two brothers across the street when her sister falls for one of the boys.
I added Pride to my TBR after seeing the cover and synopsis reveal on social media. Pride seemed like such a unique take on the classic Pride and Prejudice storyline. While there are many aspects of this book that I appreciate, there are also several aspects that fell flat for me. Overall, Pride ended up being an average retelling for me.
Let's start with what I loved. One of my favorite aspects of this book was how Ibi Zoboi developed Zuri's Afro-Latino culture as well as the culture in her neighborhood. Zuri was proud of who she was and where she came from, which resulted in amazing descriptions of her family, her heritage, and her neighborhood. Jane Austen always commented on the culture of her time through her books and I think Ibi Zoboi modernized the story in a real and relevant way.
That being said, the story itself did not stray far from the original story. Every major event from Pride and Prejudice appeared in this book. While modernized, it did not really offer a unique twist on the events in the original story. If you're like me, you've read countless Pride and Prejudice retellings. While it is a retelling, there needs to be something plotwise that makes it stand out from the original and other retellings of the same work. Additionally, the pacing went rather slow for me. The pacing combined with the formulaic plot made it a slow read where I found myself skimming some sections to push ahead.
As for the relationship itself, it was a standard YA relationship to me and made the book come across as a little younger YA. Zuri and Darius hate each other, but then flip the switch without much explanation. This is a common trope that I see more across younger YA, which generally is not my cup of tea. As a result, I never really connected or believed in their relationship. Since the interactions between the "Elizabeth" and "Darcy" in a Pride and Prejudice retelling is a make-it-or-break-it aspect of the story, this one just did not stand out to me.
Overall, I love the concept of Pride and enjoyed the commentary that the author made about our society. However, the story itself fell flat for me since I never invested in the plot or characters. I give Pride two out of five stars.
Follow me on…