There's something sweet(ie) about this book!
There's Something About Sweetie by Sandhya Menon follows two athletic Indian-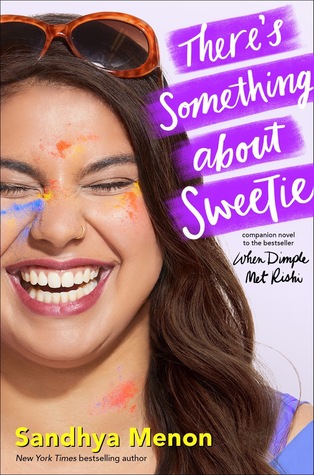 American teenagers who develop a romantic relationship despite cultural and societal expectations. Ashish Patel finds himself heartbroken after his first love cheats on him. Despite his reservations, he asks his parents to set him up with an Indian-American girl. Enter Sweetie Nair, a top-notch track star whose mom opposes the match since she believes her daughter weighs too much. As a result, Sweetie becomes determined to prove her mother wrong.
Sandhya Menon's books have been hit-or-miss for me. While I enjoyed When Dimple Met Rishi, it lacked the spark to make it one of my favorite contemporaries. On the other hand, I did not enjoy From Twinkle, With Love at all due to unlikable characters and an overdramatic plot. Going into There's Something About Sweetie, I was not sure what to expect. I'm happy to say this book exceeded my expectations and ranks as my favorite among this author's books.
I loved both Sweetie and Ashish because their personalities greatly differed from the characters in Menon's other stories. While I enjoyed Dimple's headstrong personality and Rishi's gentlemanly attitude, I found Twinkle and Sahil to be watered down versions of those two characters and less likable. Sweetie possesses the same strong beliefs as Dimple, but comes across a lot more reserved and intuitive to others' feelings. Rishi completely differs from Rishi or Sahil as he is portrayed as more "popular" and "cool." I dislike when I read books by the same author and all of the main characters and love interests across the stories read the same. I appreciated that Sweetie and Ashish were vastly different than Menon's other characters to set them apart.
If you have read Menon's other two books, they follow a fairly similar formula. Each character has their passion, which is mentioned, but never as integral to the story as it may seem. I would say this is only half true for this book. Based on the synopsis, Sweetie's track and "Sassy Sweetie Project" is mentioned, but there is a large focus on the dates that she goes on with Ashish as well. I would say the book holds true to the synopsis in this case. While the largest focus is placed on the arranged dates for Sweetie and Ashish, there is a large focus on Sweetie and how her weight is viewed through Indian culture as well. I think this will satisfy readers who were put off by the inaccurate synopses for some of Menon's other books.
There were several other aspects of this book that I really appreciated. In the author's note at the beginning of the story, Menon mentioned how her weight has fluctuated through the years and she has had vastly different experiences based on her weight at the time. She also mentioned that Sweetie describes herself as "fat" in the book because it is only a negative word because of societal connotations. However, she also acknowledges that some people, especially those bullied using this specific word, may feel uncomfortable when they see this word in the story and they are entitled to that feeling. I always appreciate reading about an author's connection to a story and I thought Menon's note before the story was incredibly thoughtful to those who may be triggered by the discrimination that Sweetie faces, especially since it often comes from close family members within this story. Just a warning: While this book does have a prevailing message of loving your body that although authentically portrays Sweetie's experience, it may be extremely uncomfortable for some readers who struggle with body image. Since there is a large amount of negative commentary regarding Sweetie's weight, you may want to skip this book if this triggers you.
Another aspect of this book that I really enjoyed was learning more about Indian culture. Sweetie and Ashish go on arranged dates by Ashish's parents that are described as "typically Indian." It was interesting to learn more about Indian culture and its influence in Indian-Americans' lives. I think the two main characters also provided other perspectives that we have not seen yet in Menon's books. Prior to this story, Ashish only dated white girls. Sweetie does not fit the stereotypical mold of the "perfect" Indian girl. It was interesting to read the conversations surrounding these topics in the story.
Overall, I really enjoyed There's Something About Sweetie. I really liked the main characters and learning about a culture different than my own. I give this book four out of five stars.
I received a copy of this book via NetGalley from the publisher in exchange for an honest review. 
Follow me on…