Tomorrow, I head off for my senior year of college. In the past, I found it difficult to read between my assignments for class and events happening around campus. At the end of the day, all I wanted to do was snuggle up in my bed, watch Netflix, and take a nap. Last semester, I tried reading books throughout the semester, but ended up not finishing most of them.
This year, I'm determined to read books while I'm at college. For the first round of books I'm taking to college, I mostly chose picture books, early chapter books, and middle grade books. Since these books are shorter, I may be able to finish them quickly in one sitting. Whenever I'm reading a book over the span of a week or more, it drags on for me, so I think it is a good idea for me to start with shorter books. They also will take up less space in my already crowded dorm room, which is definitely a plus for how messy my room gets at college.
If I do end up running out of books or want to read some YA books, then I'm still good! At my college, there is a curriculum library for education majors. I can always pop into that library and have a great selection of books!
Here are the books that I'm taking to college:
Mercy Watson to the Rescue by Kate DiCamillo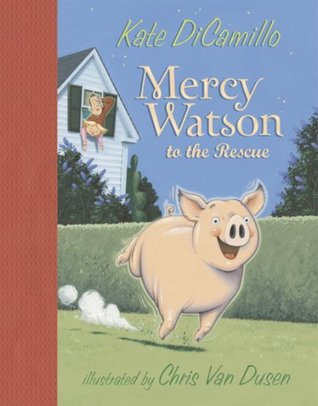 I found this book at Goodwill and instantly fell in love with the cute and colorful illustrations (each page number is written on toast!). I was surprised that this was an early chapter book because it looks like a picture book, but I am also very excited to read it!
Red Thread Sisters by Carol Antoinette Peacock
I picked this up during the $5 book bag sale at my library earlier this summer. I assumed it was a book about sewing, but I was wrong! This story is actually about a girl who is adopted out of a Chinese orphanage to a family who lives in Boston. She also tries to help her best friend who is still at the orphanage find a family. This sounds like a really interesting story and the cover looks very fall-ish, so it's perfect for taking back to school.
Main Street #6: September Surprise by Ann M. Martin
I read the first few books in the Main Street series when I was younger, so I was excited to find this book at a local thrift store. This book goes along perfectly with fall and going back to school, so I really wanted to bring this one with me to college.
Dork Diaries #2: Tales from a Not-So-Fabulous Party Girl by Rachel Renee Russell
You'll see in my post tomorrow (an update on my end of summer bucket list) that I had mixed feelings about the first Dork Diaries book. I couldn't put the first book down because it was so ridiculous, but I really didn't care for the book's main character. I'm interested to see what I think of the series after reading this book!
A Series of Unfortunate Events by Lemony Snicket

#1: The Bad Beginning
#2: The Reptile Room
#3: The Wide Window
I'm not sure when The Series of Unfortunate Events series will come out on Netflix, but I want start reading the series before it premieres! I only decided to bring the first three books because I know I won't finish all the books this semester, I can't marathon a series, and I have so many other books that I want to read!
Fancy Nancy: Halloween… or Bust! based on the creation of Jane O'Connor and Robin Preiss Glasser
I'm currently planning a series of posts before Halloween, so I wanted to read some picture books to review for that series. I love Fancy Nancy, so I thought a Halloween book about her would be a fabulous and fancy addition to the series that I'm planning.
Happy Halloween, Biscuit! by Alyssa Satin Capucilli
Like with Fancy Nancy, I was looking for another children's book to review for the Halloween posts I'm planning for October. I always talk about how much I love the Biscuit books, but I never have reviewed one on my blog! There are so many Biscuit holiday themed books and this one seemed like a good fit for the series that I'm planning.
What books do you plan on reading in the next few months?