New year, new authors.
Top Ten Tuesday is a weekly meme hosted by The Broke and the Bookish. This week's theme is debuts that I'm looking forward to in 2017. Here are my choices:
1.) Caraval by Stephanie Garber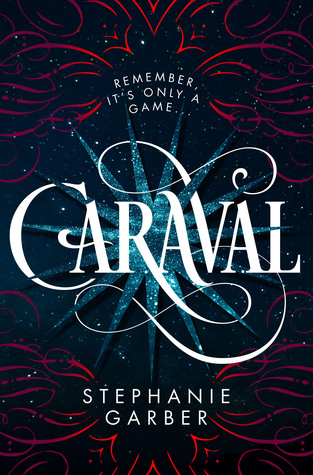 In Caraval, sisters Scarlet and Tella go to an island where they act as participants in a mysterious game. When Tella is kidnapped by the game master, Scarlett must be the first to find her in order to win the game and to ensure her sister does not disappear forever.
This book sounds really interesting, so I hope it doesn't fall into tropes typical of the genre. I love reading books about sisters who really care about each other, so I'm really interested in this book.
2.) Romancing the Throne by Nadine Jolie Courtney
Romancing the Throne follows the two Weston sisters at a British boarding school. The more popular sister, Charlotte, falls in love with Edward. To be nice, she encourages her sister to hang out with her friends, including Edward. Much to Charlotte's surprise, her sister and Edward hit it off. Soon, both girls fight for Edward's heart.
This book has the potential to go really well or really bad since I'm not usually a fan of books where sisters fight over a guy, so I'm really interested to see my feelings towards this book.
3.) One of Us is Lying by Karen M. McManus
One of Us is Lying is described as the mix between The Breakfast Club and Pretty Little Liars, so I was immediately hooked! In One of Us is Lying, five students from different cliques walk into detention, but only four walk out.
4.) Girl out of Water by Laura Silverman
In Girl out of Water, Anise Sawyer planned to spend her summer surfing with friends. After a car wreck leaves her aunt with two broken legs, Anise packs her bags and heads to Nebraska to take care of her cousins. There, Anise meets a skateboarder and struggles with feelings towards her runaway mother.
This sounds like a good read for the summer and the plot reminds me of some Sarah Dessen books. I can't wait to pick this one up!
5.) #famous by Jilly Gagnon
#famous is described as a modern-day love story where a girl snaps a photo a cute boy and the photo goes viral. This sounds like a cute story and I'm interested to see how large of a role social media plays in this story.
6.) My So-Called Bollywood Life by Nisha Sharma
My So-Called Bollywood Life follows Winnie Metha, a Bollywood film lover, whose recent ex-boyfriend competes with her for a spot in a student film festival. After Winnie meets a nice new guy, her old boyfriend decides he wants her back, and Winnie finds herself in a situation straight out of a Bollywood movie.
This book sounds so fun and unique that I can't wait to read it! Looking at debuts for the new year, there doesn't seem to be many books that focus on a humorous or fun contemporary story, so this book definitely stood out to me.
What 2017 debuts are you most excited for?